Your Water Treatment Specialists
The Water Warehouse has been providing water treatment, water supply systems and bottled water to residential and commercial customers throughout Saskatchewan for over 70 years. Based in Regina, we ensure that our customers receive reliable products, quality service and great recommendations for your water challenges.
Many of our customers need to improve the quality of their water in their town, farm or cottage but don't know where to start. We begin by providing a free test of your water. We can then recommend a process to improve issues such as water pH, hardness or iron content.
Find out more about our key services below. We also provide products and services such as Fleck products, iron and manganese filters, taste and odour filters, and even water system maintenance.
We are committed to the environment, providing products that last and that use only those resources that are absolutely necessary. At the Water Warehouse, we believe that clean water should not come at the expense of the environment. We will continue to do everything we can to minimize our ecological footprint without sacrificing quality and customer satisfaction.
Whether you are looking to have our bottled water brought in, or looking to improve your own water supply, we're here to help! We are your one-stop shop for high quality products at competitive prices.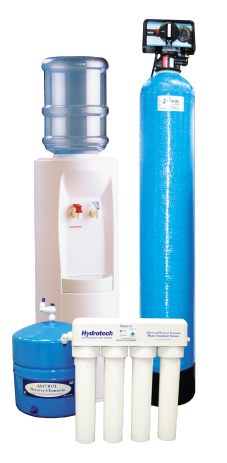 Divisions of The Water Warehouse